When you revisit a project after stepping away from it for a while, you inevitably see things you would probably do differently a 2nd time around. I often take breaks from stuff I'm working on just to get it out of my head for a while, then come back and look at it with a fresh pair of eyes. It's a helpful exercise to make sure you're not taking the project in a direction you don't want to.
In going back through the Petunia Pepper's Picture Day artwork and formatting it for iPad/iPhone, there are a few minor things I'd probably tweak given another go at it, but I'm still pretty pleased with how it turned out, being my first book project. One thing that I wouldn't change, though, is this guy: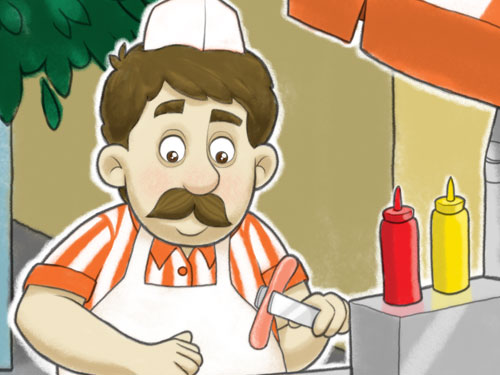 Usually, character development takes some time, with the sketching/revising/sketching/revising, but this guy went pretty quickly. I just imagined what I thought a big-city hot dog vendor (or cabbie, or pizzeria owner, etc.) would look like, and then subconsciously added a hint of Super Mario (my childhood poking through, I guess). In this particular shot, he's not quite sure what he's looking at… or what's about to hit him. Still feels good.